By Tree Wr3x aka Tim-Me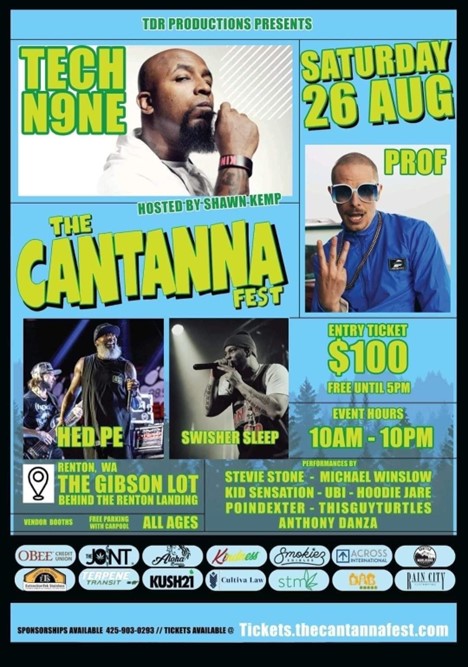 FOR IMMEDIATE RELEASE
Renton, Washington – Get ready for a day and night of non-stop music and entertainment for The Cantanna Fest on August 26th, 2023, at The Gibson Lots behind the Renton Landing. Produced by Scott McKinley and Redman, this year's festival promises to be a cultural vibe and educate and entertain like never before, featuring an impressive lineup of some of the hottest names in the music industry.
Hosted by former Seattle Supersonics superstar Shawn Kemp, the festival's headlining act is none other than the critically acclaimed rapper Tech N9ne. The evening show will also feature performances by Prof, Hed PE, and Swisher Sleep, who are sure to get the crowd moving and grooving.
But that's not all! The festival will also feature a free daytime event starting at 10 am with over 100 vendor booths and 15 food trucks serving up delicious treats. The daytime event will also feature an impressive lineup of performing artists, including Stevie Stone, Michael Winslow, UBI, Kid Sensation, Donald Glaude, Hoodie Jare, Poindexter, THISGUYTURTLES, and Anthony Danza.
"We are thrilled to bring The Cantanna for its debut year," said festival producer Scott McKinley.