Written by:
Timothy Edwards aka Tim-Me aka Tree Wr3x
Seattle plays host to many events and cannabis brings people together for more than just smoke sessions.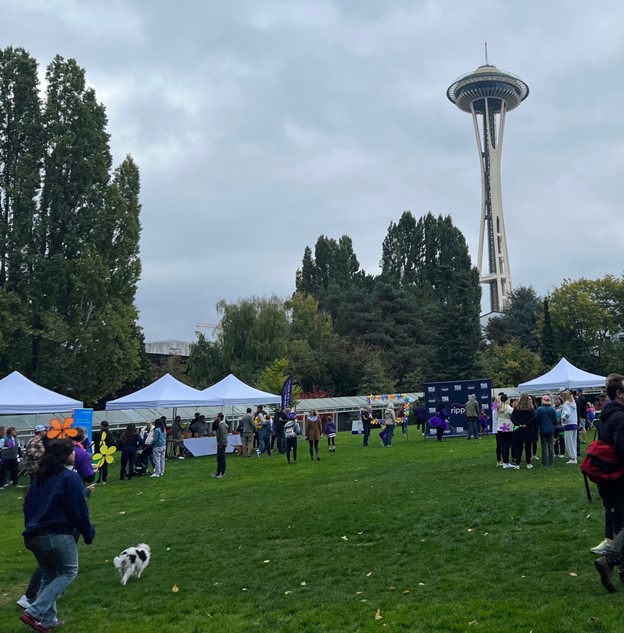 Shawn Kemp's Cannabis was out and about in the Seattle community this weekend starting off with the Alzheimer's Association walk to end Alzheimer's at the Seattle Center.
My good friend and mentor, southern Oregon Cannabis OG activist/lobbyist, Lori Duckworth and I, walked with Kemp's team.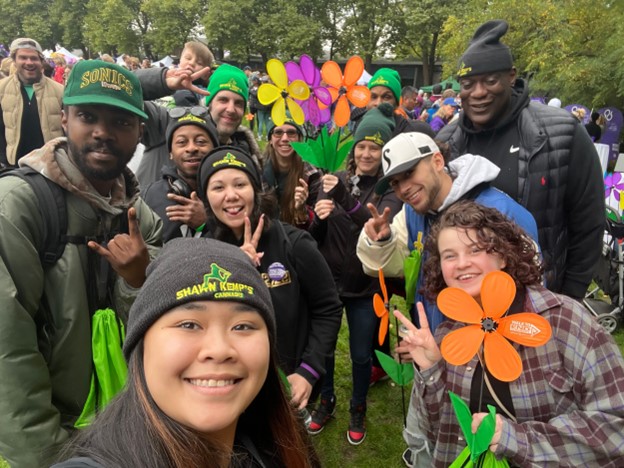 General manager of Shawn Kemp's Cannabis, Tiffany, took this picture of the team and has been a part of the company for three years.
"I've gained a lot of knowledge from my peers, including Shawn. From budtending, inventory, now managing the store in barely 3 years, I'd say I'm pretty proud of myself. It's great to see the community come together and share their experiences with Alzheimer's, the more knowledge that is put out brings more awareness to it all," she said.
Kemp's team are involved in a lot of causes and events, but this one holds special meaning to him. "My grandma died years ago with Alzheimer's so it's something close to me that I thought I should take place in," said Kemp.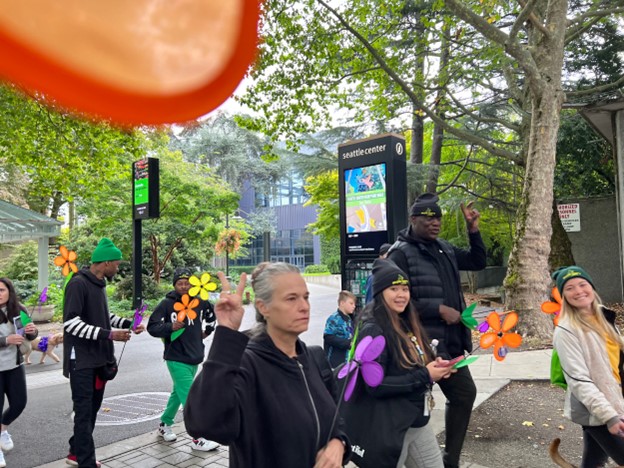 Duckworth also spent 25 years of her career working as a geriatric healthcare administrator specializing in Alzheimer's and dementia.
"I support the Alzheimer's Association and research done to help treat and support families that are dealing with this terrible disease. Little did I know that 25 years working in this area was preparing me for dealing with it in my own family on my father's side for multiple generations," said Duckworth.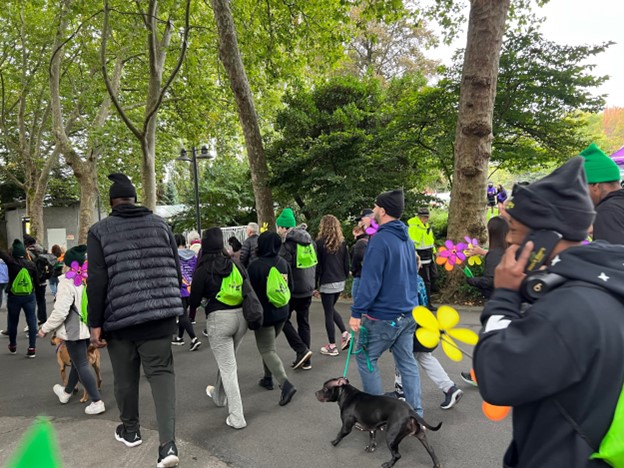 Around 5000 people came out for the walk, although that is a guess and not an actual attendance count.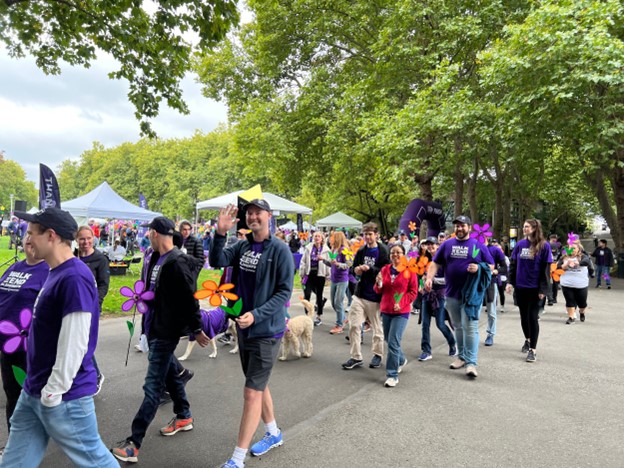 Some people brought their dogs and there was a dog show before the walk started.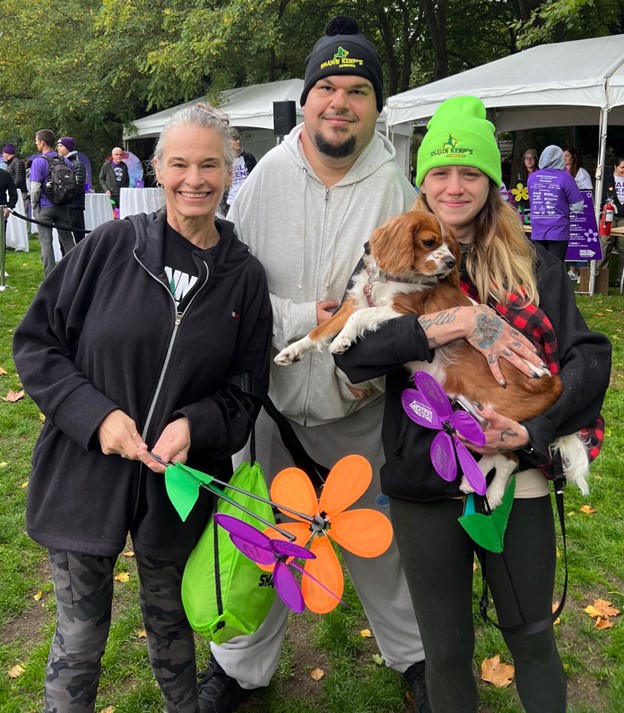 My good friend and member of the Cannabis community, Jamie, came out with her dog, Luna, to walk with Kemp's team.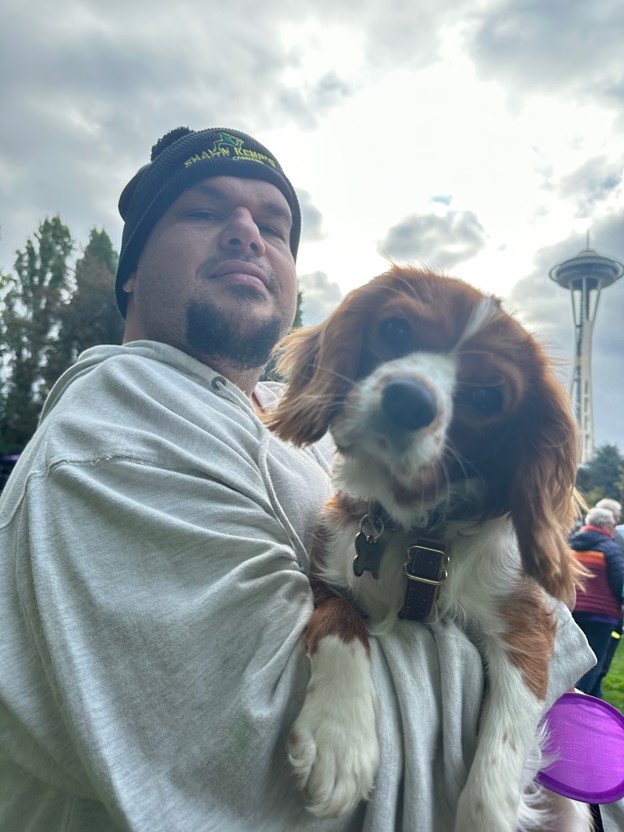 Luna may have not won the competition but she had my vote.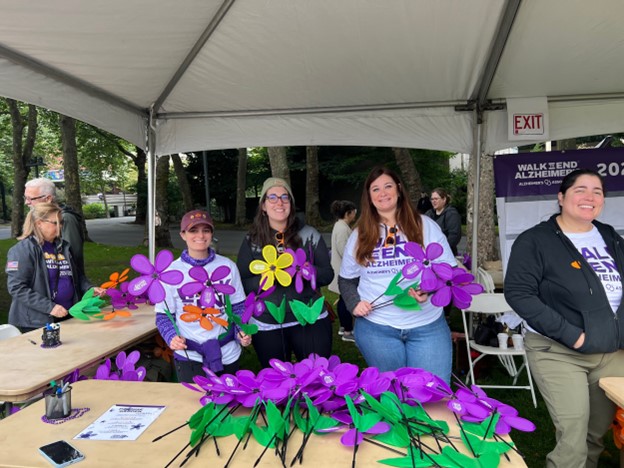 The event staff were handing out these pinwheel flowers. Purple represents losing somebody to Alzheimer's. Orange represents somebody who supports the cause.
While I personally do not have anyone in my family that suffered from Alzheimer's, my family has done a lot of work with many different causes, and I am always happy to show up and support a good cause like this.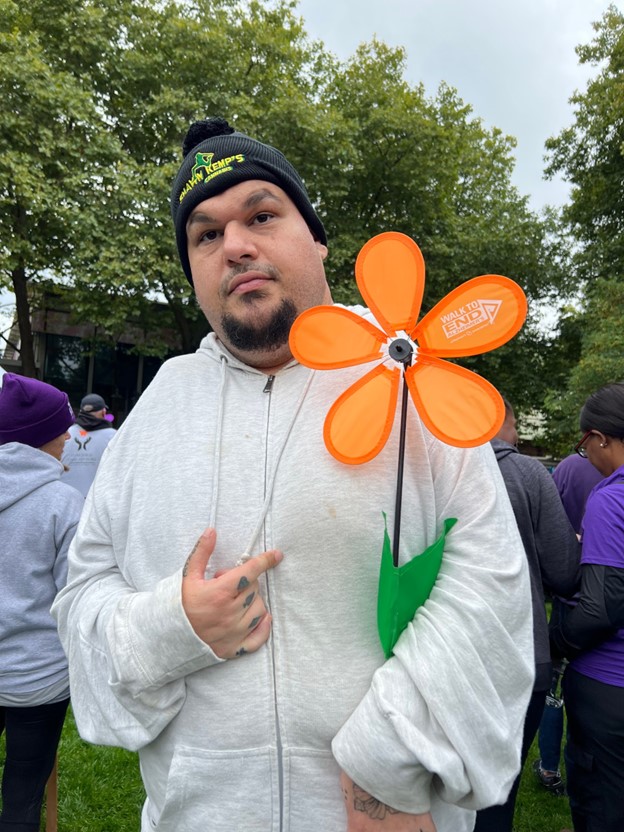 While there is no cure for Alzheimer's, Cannabis can help with the quality of life, one who suffers from it.
"In my experience with Alzheimer's patients, Cannabis is not a cure but a treatment to alleviate some of the harshest signs and symptoms related to the disease. Those issues include violent behavior, loss of appetite, depression, and mood swings, therefore improving their overall quality of life," said Duckworth.
Kemp is a genuinely kind individual and told me that it's all about the fans. Everyone from little kids to grown men walked up to him during the day, asking for pictures, autographs and what not. He was always happy to oblige.
"I'm one of the fortunate ones… I came around here at a young age, I got here when I was 18, I'm 53 now, so people kind of got a chance to see me grow up and they can identify with me," said Kemp.
The love and support he gets from his fans means a lot to him and he recognizes that many people in Washington miss having a NBA basketball team and he tries to give as much love back as he can to them. Rumors of Seattle getting an NBA team in the near future have been talked about for a while, and Kemp is in full support of it. "At the end of the day, it's the kids that miss out on this, not the adults, it's the kids," said Kemp.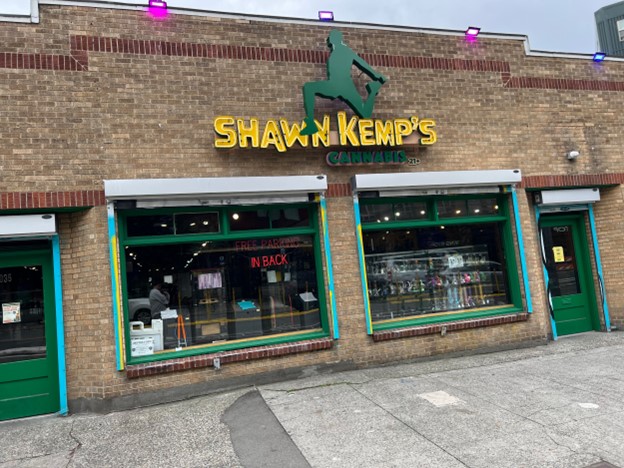 After the walk, we went over to Shawn Kemp's Cannabis location on 3035 1st Ave. in Seattle. They also have a second location on the Sodo side of First Avenue.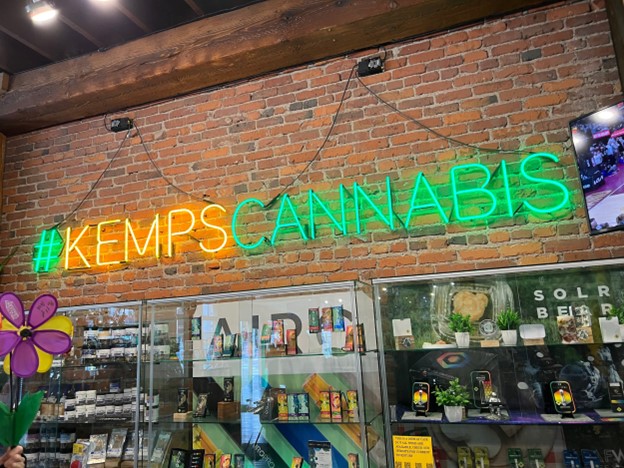 Working in Cannabis has taken my life full circle back to a dream I had when I was a kid which was being able to work around people related to sports and entertainment. This year being able to work with the MLB during All-Star week, WWE, AEW and being able to hang out with Kemp and his team, have definitely been highlights to my year, my career and my life.
The stores are very nice and clean. A great selection of products and a showcase of cool sports memorabilia that any fan and Cannabis user would enjoy. Worth checking out if you are.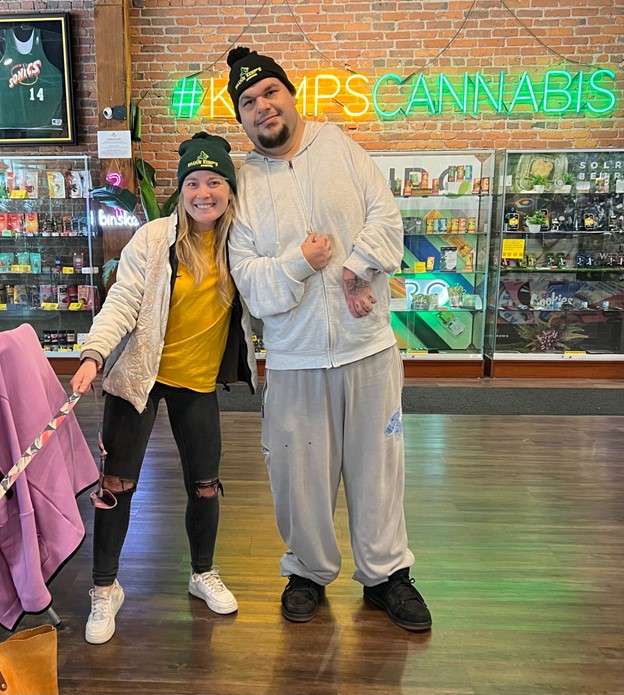 Jolie from Northwest Leaf also walked with us. My weekend adventure led to Sunday at Climate Pledge Arena, where AEW Wrestle Dream took place.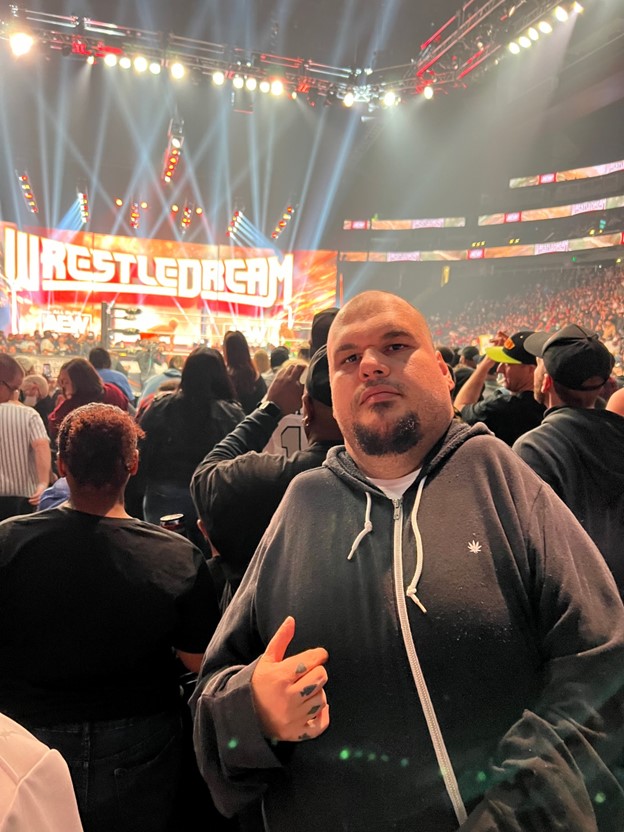 Wrestling or sports entertainment, whichever you wanna call it, I've been a fan since I was a little kid. This literally was a wrestle dream. While watching the event, I looked to my left and who did I see?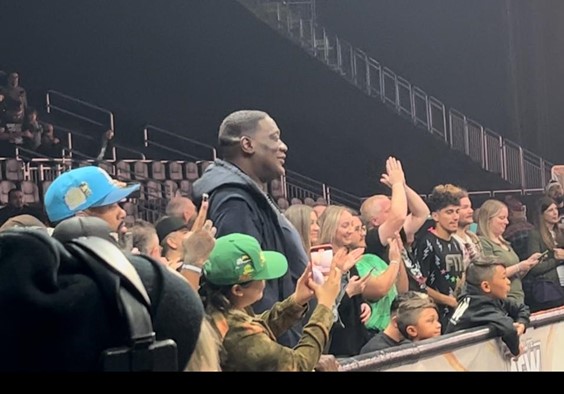 Kemp's team sitting front row adjacent to me. We waved at each other and of course I had to run over and say hello. AEW gave him a shout out during the pay-per-view, and I watched a couple of the wrestlers walk by and shake his hand. Even the announcer went over and got a selfie.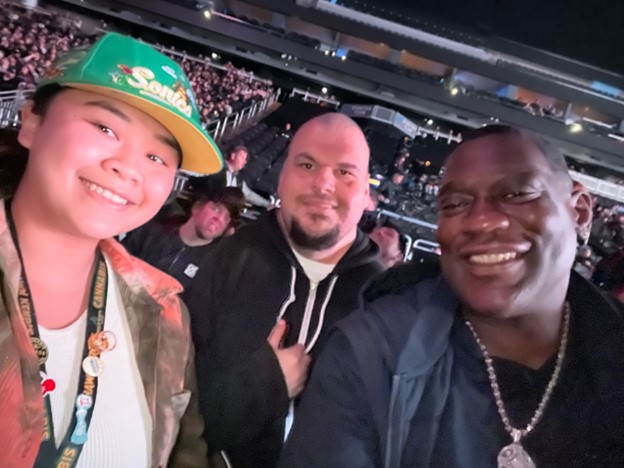 The surprise of the night for just about everyone was when Adam Copeland, known as the wrestler Edge, made his shocking debut in AEW. A staple wrestler for the WWE fans did not expect to hear his entrance music hit and see him walk through the curtains.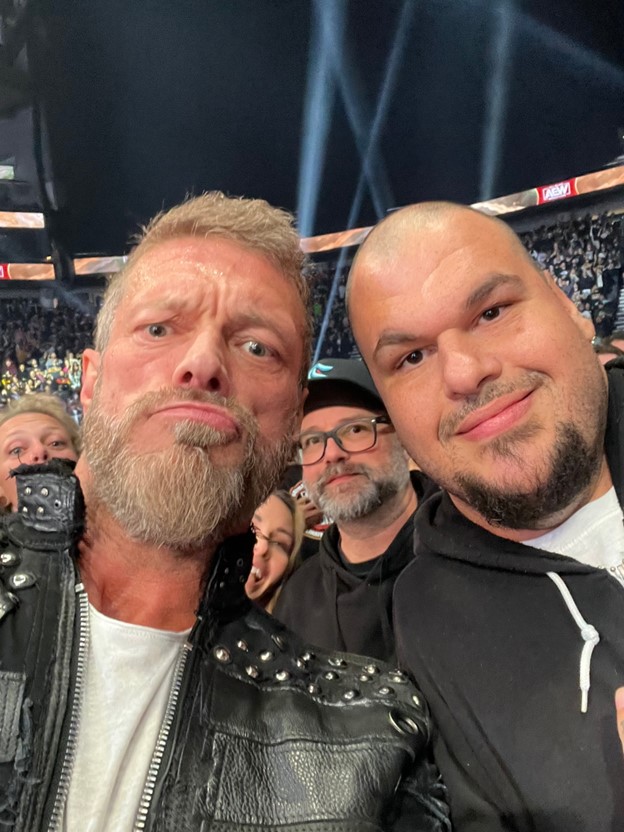 To add to the surprise, I was not expecting him to walk over to me, and as he was shaking hands, I asked him if I could get a selfie, and he said, "Of course!"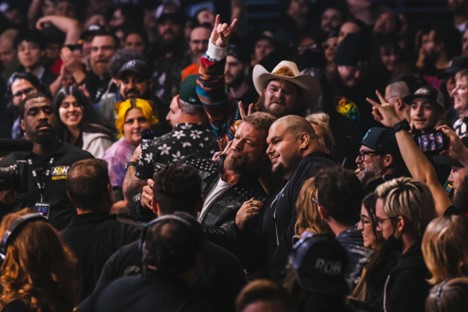 The moment was even captured by Climate Pledge Arena, who shared this photo on their page. This was an unforgettable weekend in so many ways.
Bringing this story back around to the topic of Cannabis, I always say, Cannabis improves the quality of my life and helps me be able to go do cool things that I do. While it is "legal", it is still federally illegal. People are still in jail for the plant, and people who need the plant for medicinal purposes, are not able to get it in some places.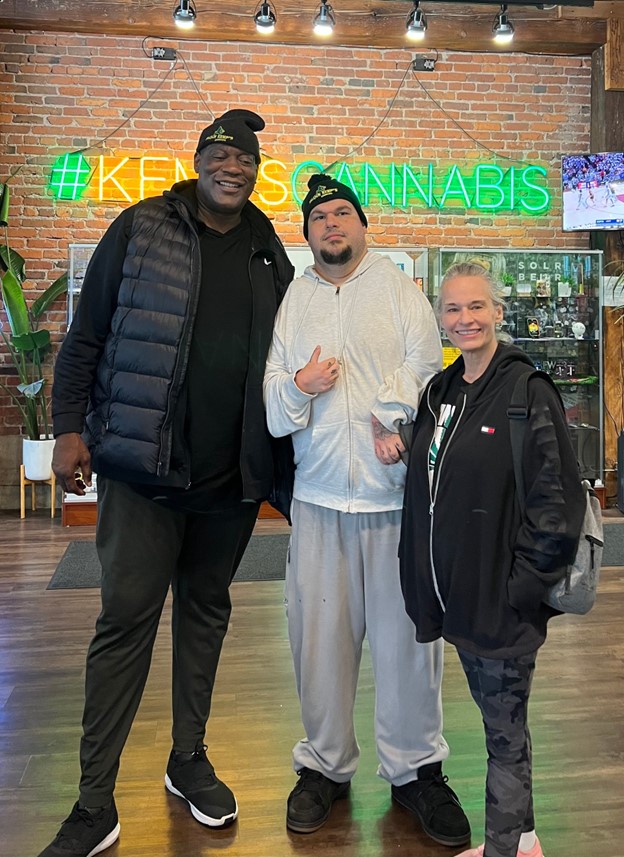 Change in the world is possible when people strive to do so. Whether it's walking to end Alzheimer's, or showing up to Hempfest, if people in the Cannabis community continue educating and being a positive presence, anything is possible.
Shawn Kemp's Cannabis and Lori Duckworth are the kind of people that I strive to be like. Until next time, stay thankful and positive, and keep tuning into Cannabis legalization news.